6 ONLINE ART SOURCES
Opus' Go-To Guide for Buying Affordable Art Online
What do international art consultants do when they're cooped up for a year? Stare at the walls! Opus Art Projects, international art consultant ladies of mystery, are shaking things up with a changing of the walls. New year, new walls! For those interested, we have compiled a small list of Opus' preferred websites that offer affordable art online and have included some of our favourites from each site. There are many options to choose from, so to narrow it down for you we have also mentioned which sites are best for limited edition art prints, sculpture, original paintings, have the highest and lowest price points, and which pieces Laura and I would add to our own personal collections.
We really love looking at art and feel very lucky to be able to make it a part of our everyday life. It is pure joy! We are just as happy consulting on commercial and hospitality art projects as we are creating a beautiful residential art collection, so if you ever find you could use help with art selections, don't have time to browse online art for hours, or have questions on art placement, we would love to hear from you and share the joy. Feel free to reach out while putting together that dining room gallery wall, selecting outdoor sculpture, or choosing the perfect piece to backdrop all your zoom meetings. We are here to help!
Alright, if you also enjoy art browsing as much as we do, Opus' favourite affordable art links and picks from each site can be found below. Happy art hunting!
Prints & Photography
The Poster Club
is great for affordable prints, prices range from €49 - €475 EUR. They are based in Copenhagen, Denmark so the shipping costs and duties are extra if you live in North America, but they do ship worldwide. They have a cool, modern-graphic aesthetic and they also have art walls! You can purchase a curated, turn-key gallery wall. How amazing - one stop shop!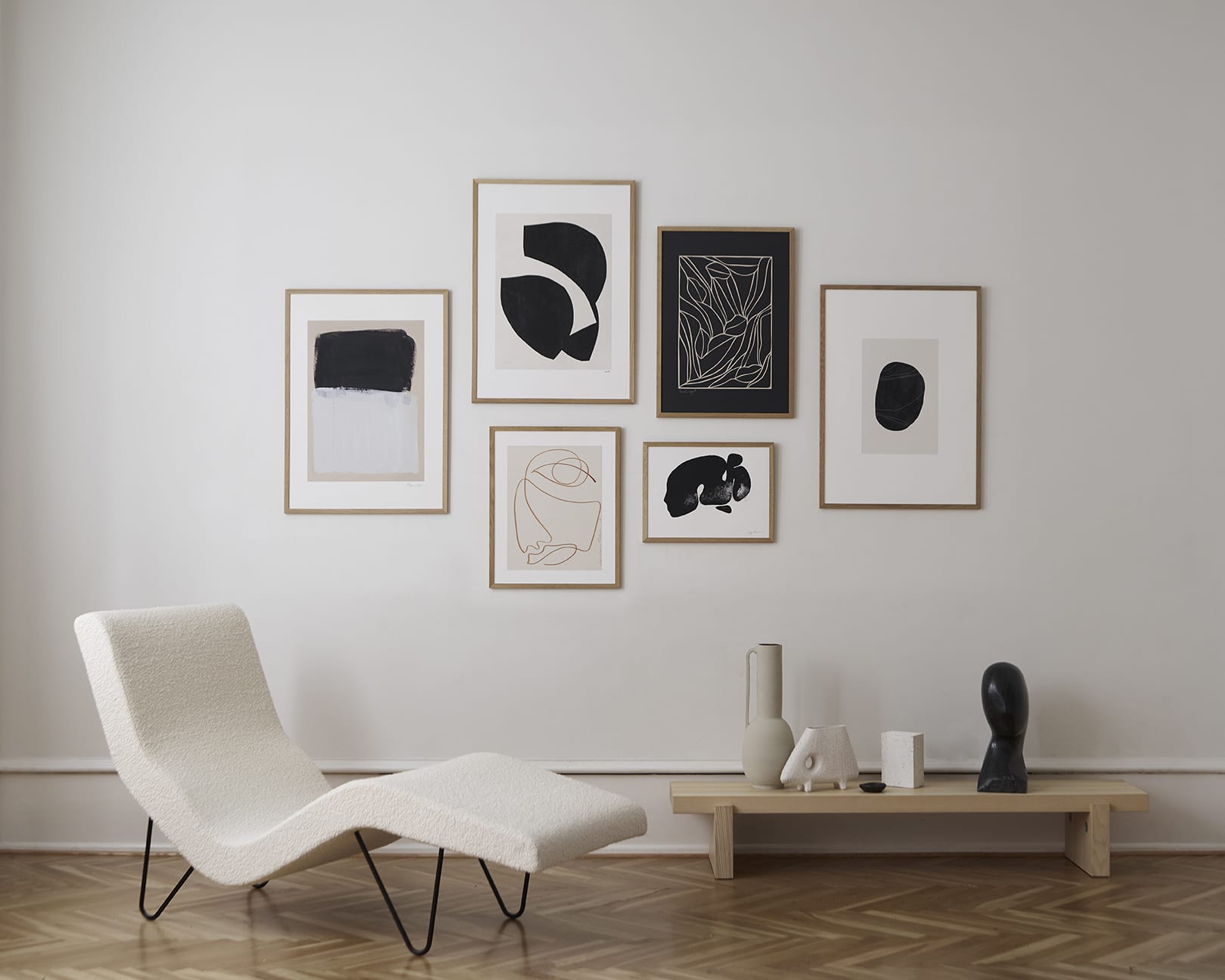 Paper Collective, also from Denmark, has a modern graphic style, similar to The Poster Club and their very affordable posters and prints start at €29 EUR. They also offer worldwide shipping and have neat frame options like the Moebe Transparent Frame A5/A4/A3 – Black and Magnetic STiiCKS. The Moebe transparent frame consists of only four pieces of wood holding two pieces of plexiglass in place with a rubber band, so you can frame special prints such as the transparent Floating Leaves, or anything that would be lovely in front of a window, letting the light through. The Magnetic Stiicks frame uses magnets to hold artwork at the top and bottom. It's a great option for hanging mixed media or textile works in a contemporary way. Paper Collective also donates a portion of all sales to a good cause in the world. They are currently helping to build a new school in Nepal. Art with heart - the feel good option.


Lumas
has loads of limited edition prints and you can find some big names on their site, like
Marc Quinn
,
Olafur Eliasson
 and
Ai Weiwei
. With those big names comes bigger price points. My favourite piece here right now is
Lee Jeonglok's Tree of Life 6 2 1
, C-print on dibond, $9,590 CAD. They do have a lot of search function options though, you can search by colour, or browse prints in your price range, or search gifts under $250, so there's something for everyone. They ship worldwide and offer free duties on orders shipping to Canada. They are currently offering FREE shipping on all orders shipping to Canada, but only until the current stay-in-place order is lifted and in person shopping resumes. This includes framed artworks - this is a real score! They also have galleries in several major cities, so pickup may be an option if you have a gallery near you.
Tappan Collective
has contemporary photography and they also offer artworks in other mediums like painting, drawing, collage, mixed-media and sculpture. Their price range goes up to $25,000 USD, but most pieces fall under $850 USD. This piece,
Black Iris I by Divine Southgate-Smith
, limited edition print, starts at $660 USD.

Painting
Uprise Art
has a great selection of original art, including paintings, like
Transfer I by Rachel Garrard
, 24" x 22", rock pigment and quartz on linen (shown below), sculpture and installations! It's not cheap art, but they do have a few pieces for under $200 USD, and they are definitely worth a look because they have cool artists. They are based in New York and offer a pickup option, to be coordinated with an Uprise Art advisor.
Sculpture
Saatchi Art
definitely has the most expensive artworks, but they also offer the most artworks, so there is art for every budget, like this cute little sculpture
Apple Abs - 3 - Blended by the light by Ian Siragher (Claudine Fiche)
for $264 CAD. I <3 it. They offer a ton of original artwork and you can browse artists by country to easily find and support local artists as well as reduce shipping charges. A win-win!
Most Coveted Art
Laura loves --->   My first pick would be the painting mentioned above from
Uprise Art
 by
Rachel Garrard
, I absolutely love paintings on linen and anything that involves light and overlay.  I'm also drawn to textures and using traditional mediums in unique ways.  This piece by 
Muriel Napoli
reminds me of the ocean and water patterns, bringing me back to days on a warm beach.

We hope this list was helpful and you find something you love. If that magic happens, you may be interested in our next post where we will be sharing our top tips on how to hang that art you love! Be well. 
0 comments